Is NewbieNudes Legit? Read this Post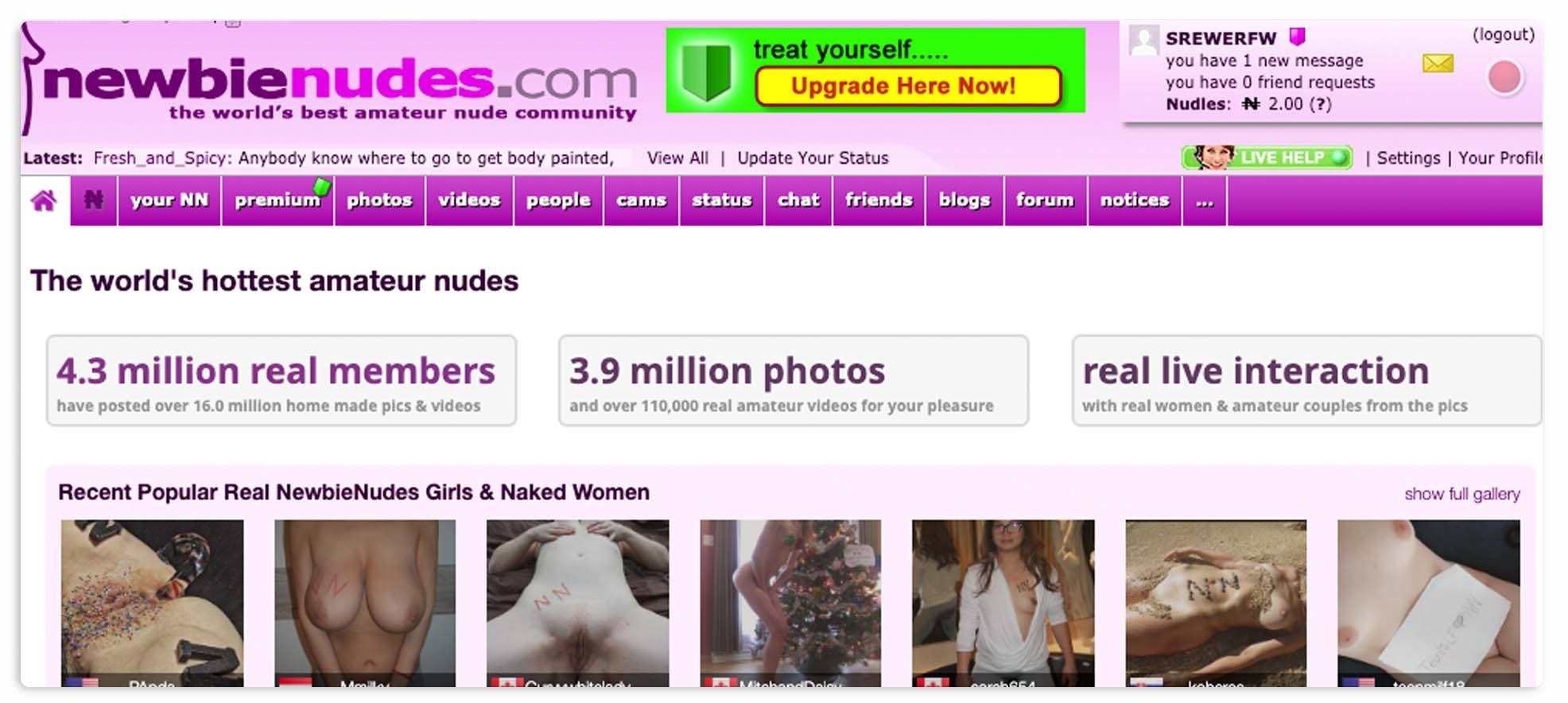 What is Newbie Nudes
Newbie Nudes is a website where amateurs can post adult content and users can browse and enjoy thousands of pictures and videos uploaded daily. Everything on this website is submitted by users, making it one of the best places to find authentic amateur nudes and videos. 
This website offers extensive features for members including a blog, forums, live chat, and filters. The filter system they've implemented is incredibly useful for sorting through the huge database of photos on the site. 
Of course, with any amateur nude site, you may find that the quality of the photos is not up to par with a professional nude website. If you're a fan of amateur nudes, this probably won't bother you but it's something to be aware of.
Newbie Nudes is free to sign up for but there are some features that are only available with a paid membership. The free membership allows you to browse through the database of pictures, filter through photos, upload photos and remove your own uploads. Paid memberships will get you an ad-free experience, access to hi-resolution pictures, manage your comments, and view verified profiles. 
For the most part, this site is pretty easy to navigate if not a little on the outdated side. Be prepared to make a free account at the very least, since guest access is incredibly limited. You can access the site on your computer or on your phone as a mobile site. 
How it works
You can visit Newbie Nudes to check out what they have to offer but you'll want to sign up for a free membership pretty much right away. Guest access only allows you to view thumbnails so if you really want to enjoy the sight you'll have to complete the signup process. 
Once you create your free membership, you'll be able to take advantage of the features this site offers its users. There is an absolutely massive amount of content on this site, so the first thing you'll want to do is explore the filter options they provide. You can do all sorts of things with these filters such as filter out dick pics, or look for specific features like dark hair, big boobs, etc. 
You'll probably find that a lot of the content uploaded is low quality but that's the name of the game when it comes to a fully amateur website. Once you find a video that you like, all you have to do is click on the thumbnail to view the content. You can also comment to interact with the post. You can manage your comments by visiting your profile page.  
As a member, you will also have access to blogs and forums. The forums are especially helpful for answering any specific questions that you may have. They also provide a FAQ page for questions about billing, membership, and uploads. 
Pricing
Paid memberships have several options. Payment is made via credit card. This site accepts both MasterCard and Visa. 
Monthly $29.95 per month
3-month  $59.95 one-time
6-month $99.95 one-time
1-year $149.95
How to Join
Visit Newbie Nudes on your desktop or mobile device. 

Sign up using a valid email address and a username.

Check out the site and look at the membership options.

Browse through the thumbnails.

Enjoy the nudes and videos. 
Cool Features
Safe For Work Option: One of the coolest features this site has to offer is the 'safe for work' webpage option. This allows you to use the page in public without any worries. To use this option just click the SFW link at the top of the page. 
Forums: The forums on this site are really helpful for answering questions that may not be in the FAQ. You can also read through forums and join in on interesting topics relating to the site and its community. 
Mobile Website: The mobile website is a convenient way to visit the site and provides pretty much everything you can find on the regular desktop site. You can even use the SFW option on your mobile for browsing on the go. 
Cancellation
Sign in to your account.

Click the membership link in the menu bar. 

Follow the directions provided to you. 
Overall Opinion
Newbie Nudes is an awesome option for anybody who's interested in amateur nudes. This site has a huge selection of photos and videos that you can access with a free membership. 
The quality of the photos and videos is not going to be as great a professional website but if you like the amateur category this shouldn't be a big surprise. 
Although the site could benefit from an upgrade to its web design, it's still fairly easy to use. Since membership is free, there's no reason not to create an account and check it out for yourself.