Make $180/day Selling Nudes: Here is How
Chances are, you've probably sent at least a few nudes to a guy because it's a fun and risque way to flirt with people. Sending nudes is more than just a way to get a guy hot– it's a lucrative business endeavor. Many women are now making good money by selling nudes online. If you think your nudes are a cut above the rest, why not make some easy money from selling your nude photos to guys online?
There are several online platforms that help people market themselves and sell nudes to an eager fan base. If you've got a decent social media following, you're already ahead of the game. You can easily direct your followers to a webpage that consolidates all of your subscription services and start making money with your nude photos.
This is a great job to make money from home and is awesome if you are a college student or stay at home mom. If you are ready to start selling nudes, read on to learn more about the basics on how to sell nude photos, the best companies to work with, how to increase traffic on your page, and how much money you can actually make.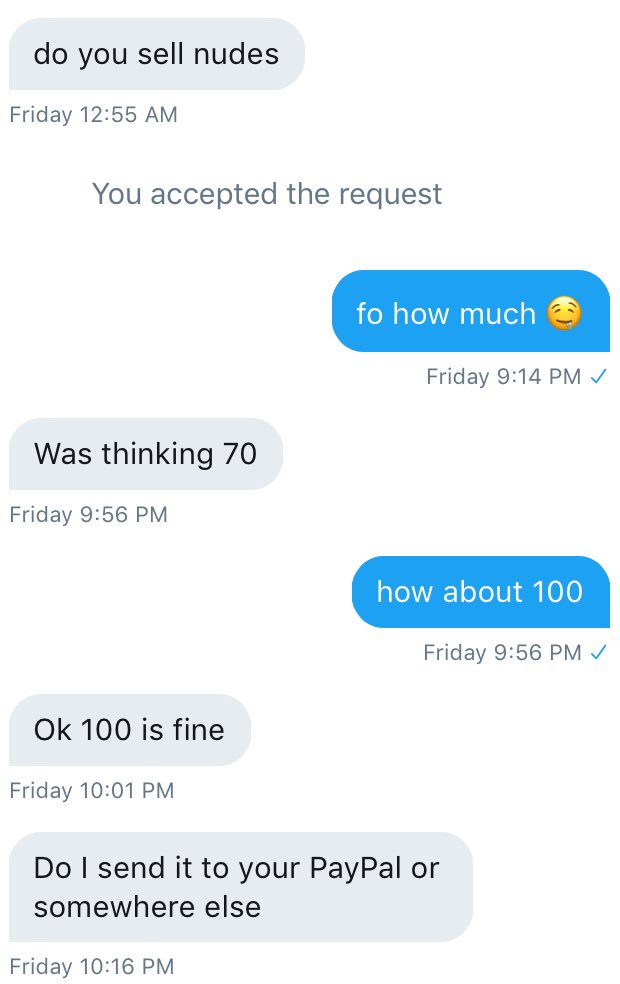 The basics on selling nudes
Business Model: there are a couple of different ways you can design your business when it comes to selling nudes in terms of how to make money. First of all, we recommend working with a company to keep your information and payments safe and secure. This also ensures your nude photos are not stolen. Once you start selling nudes with one of these websites, you'll need to decide if you want to sell subscriptions or have customers pay-per-photo. You can also choose to do both.
Subscription plans are usually paid on a monthly basis. This means your fans will purchase a subscription and pay a monthly fee to access your private content. If you choose to do a subscription, you'll want to make sure you're posting nudes on an extremely regular basis to hold on to your subscribers and make money.
Pay-per-photo means that your fan can purchase a single photo or bundle without purchasing a subscription. This can work well for you if you're worried about staying consistent in posting. This method of selling nude photos is still a good way to make extra money.
You can also offer both subscriptions and pay-per-photo options. You may consider adding lifetime subscriptions that are based on a one time fee as well. All of these are good options for making money, they just depend on what works best for your lifestyle. If you're ready to put a solid effort into growing your business and you think you can post nudes daily or several times a week, we recommend doing a subscription-based model to sell nudes.
Requirements: in order to sell nudes or videos online, you'll have to be at least 18 years old. Any website that you work with will require that you verify your age with either an ID or your credit card information. A lot of websites will also want you to verify that your pictures of actually of you. They'll want a few full body and face pictures as a part of your application. In addition to this, many of these companies need you to be located in North America in order for payments to be made. Both men and women can apply to these websites, but the majority of them cater to women.
Equipment: at the very least, you'll want to have a mobile phone with a decent camera or a handheld camera. Mobile phones are incredibly convenient when it comes to taking nudes, however, you'll have to make sure the camera is high quality. If you can afford it, a professional camera with high resolution will instantly make you stand out from the crowd.
Top sources to make money:

About: OnlyFans is a website that has created a platform for people who create original content to sell subscriptions. With this website, your goal is to gain followers and have them subscribe to your page. Your followers will pay a fee to see any exclusive content you create. The more people who follow you, the more money you will make on your nudes. Although OnlyFans is not catered specifically towards adult creators, you can imagine that's a convenient space to sell nudes on.
Another benefit to this site is that they make sure all of your private information is kept private and secure. When working online, especially in the adult industry, it's a high priority to keep your information safe.
Payment: payment on OnlyFans is based on the price you set for your subscription and the number of subscribers you can gain. Most people on this site will set their prices anywhere between $5-$50. You will want to make your goal to sell as many subscriptions as possible since this is how you earn a steady income.
To give you a better idea of how much you can make, if you have 100 subscribers, and charge $20 per month, you'll be making $2000 a month. That's not bad pocket money. You will keep 80% of your earnings and payouts are made 5-7 business days after the request.
You'll notice that most of these companies avoid using Venmo since many apps like Venmo are not tolerant of adult content.
Requirements: all you need to do is sign up and create a profile to sell on this website. Start by posting close up photos of your face and body to attract people to your page and start making money.

About: Fancentro is a website that is made just for adult entertainers to sell premium pages. You can create a private Fancentro page and promote several other platforms such as Snapchat, Instagram and Twitter. This is an excellent place to promote yourself and get more traffic to your social media so that you can sell nudes and videos.
On this website, you'll make a profile with several photos that tease your potential subscribers. Your bio will let people know exactly what you offer, what kinks you're into and how often you post content. You can direct people who follow you on other apps like Twitter to this page to buy your nude photos.
Payment: with Fancentro, you'll get to set your price and choose if you want to do a subscription or a one-time payment. You'll notice a huge range in what people sell their nudes and premium content for. The range falls between $5-$30 per subscription. Sellers get a 75% commission on all of their sales so it's a pretty great place for women to make money.
Requirements: it's super easy to start promoting yourself with this company. All you have to do is create an account and fill out your profile. Once you do that, you can start sharing your Fancentro page with your followers so that they can find everything you offer in one place. If you're trying to sell nudes and monetize your social media, this is a great place to start out. Make sure to add tags in your profile so that guys who search through categories will see your page, so you can sell more nudes online.

About: Manyvids is a company that provides a space for people to market their nudes, videos and adult content. This site focuses on inclusivity and they welcome people of all backgrounds to post their content. Like other websites we've covered, this site acts as a 'one-stop-shop' for your fans to find search for everything you have to offer. People who work with this site leave great reviews and are very happy with how much traffic their pages get. This website gets 6.5 million visitors a day so these claims seemed to be backed up with real numbers.
This site is fully encrypted. This means that your videos and pictures will be safe from pirates. You can use this website knowing that your images will only be given to people who have purchased them and not stolen from the site.
Payment: sellers must sell subscriptions for nudes for a minimum of $39.99. For any photos, you sell you can charge between $3-$1000. Manyvids give sellers 60% of their earnings from pictures, videos, and other content and 80% of all custom content. Payments are made by direct deposit or check and there is a $100 minimum payout for these methods. You can also be paid through Paxum or Cosmo and there is a $50 minimum payout for these methods.
Requirements: Manyvids has made it a goal to include people of all ethnic backgrounds and sexual orientations. Its inclusive vision makes this a great place for anyone to sell their work. Once you fill out their application it takes 1-2 days for you to get approved. Once you are approved you can start selling nudes on this site.

About: MyGirlFund is a website that guys use to browse through the profiles of women who want to sell their nudes and explicit photos and videos. The women working on this site make a profile complete with pictures, a name and a quick tagline. Once a guy clicks on her profile, he'll see links to access her private photos, chat with her, send her photos, and get a sneak peek of what she has to offer. This profile should also share an outline of what each girl charges for her photos.
The real goal for this website is to create relationships with your customers, that way they keep returning for more. This website is catered towards guys who want an intimate relationship with a girl so if you can provide that for them, you'll be able to make some money. You're really in control of your prices and content so it helps to check out other profiles to see what the going rates are for whatever you offer. You can keep a blog on your profile to share with your customers updated on your life so that they feel a more intimate connection to you.
Payment: The payment system on this website is pretty unique. Guys buy credits from the company and use them to buy your services. Each credit is worth a dollar and you can cash out whenever you want, there is no minimum payout amount. For payments over $10 guys may choose to send an escrow payment. This means the payment is sent to you but the funds are not released until the guy accepts the content. This guarantees that you get your money and he gets his content.
Models earn varying percentages from selling nudes depending on how high their earnings are. As your earnings grow, you'll reach higher levels. The higher you get, the more you earn per dollar. If your earnings are high enough, you can earn up to 90% of each payment.
You can cash out using a direct deposit, or you can use a platform called Skrill and get paid anywhere in the world.
Requirements: You'll have to upload a valid ID and verification photo to apply.

About: ExtraLunchMoney is a website where you can sell pictures and services directly to guys looking for nudes. As a seller, you'll be able to sell nudes, videos and anything you think guys will love. You'll also get to set your prices. If you're only interested in selling nudes, you can list your profile under the photos category, that way your profile will pop up when guys search for nudes.
Payment: You'll be able to sell your nudes online through this site for whatever price you decide. As a seller, you will receive a payment in credit form. One credit is equal to $0.60 and you will keep the full amount. Once you send a guy nudes, the job is considered done and the credits will be transferred to your account. You can then transfer the funds using Paxum, bank transfer, check, or wire transfer. Payments are made weekly. For Paxum, a minimum of 40 credits are required for a payout, and for bank transfer, a minimum of 105 credits are required.
Requirements: The requirements for this site are that you are 18 years of age and that you are the sole owner of the content that you post.
Snapchat (Sell Private Snaps)

About:If you're a college student, chances are you already have Snapchat downloaded on your phone. Believe it or not, this is one of the most popular ways to make money when you send nudes. When a person has a private Snapchat account that people have to pay to access, it's called a premium Snapchat. This method of selling nudes is a little bit different than the websites listed because you won't get paid by this app. Rather, you'll use the websites listed above to advertise your premium Snapchat.
Snapchat is a fast, free way to create nudes and explicit videos of your body and get paid to do it. There are several companies that you can work with that can help you manage a premium Snapchat or you can manage it yourself. When a person subscribes to your account, they'll have to pay through a separate payment platform and then they can access your premium nudes.
How to find buyers
Reddit: this app and website is an unparalleled place to market yourself to a large audience. Reddit is one of the few social media apps that allows NSFW content on its platform. For this reason, it's a great place to post some teasers and tell people where to find your premium content. Check out subreddits such as r/nudes to see exactly how it works. It's an active community with huge potential for increasing your subscriber base.
Instagram: this is another excellent app to use to market yourself. If you can gain a large following on Instagram, you can direct your followers to your premium subscription pages where they can buy your nudes. Since Instagram is such a popular app, you can slowly build a following of hundreds of people. While you won't be able to post any NSFW content on this app, you can definitely post sexy pictures that will lure in potential subscribers. Use hashtags to further increase your visibility.
Twitter: Twitter is a super popular platform for people looking to sell nudes and adult content. Use Twitter the same way you use Instagram, by gaining followers and directing them to your premium pages. You can also use Twitter to update your fans on any changes to your subscriptions and simply keep them caught up on your life.  Hashtags are also a very helpful tool on Twitter so make sure you use them in each post. Just remember to switch up your hashtags so that the app doesn't think you're a spam account.
Public Snapchat: if you're already selling nudes on a premium Snapchat account, it's smart to make a public account to give people a sneak peek of your private content. Snapchat is awesome because it's so fast and easy to post a picture or video without putting too much energy into it. It's easy to post daily content on this app and engage with your fans.
Be Unique: in order to get more traffic to your pages, you'll want to figure out how you can stand out. A great way to do this is to make use of any features that make you different. If you have large breasts or short hair, use it to your advantage. Market yourself as a 'short-hair beauty' or 'tattooed queen.' You can also use kinks and fetishes to stand out. If you love taking pictures dressed as a dominatrix, make sure you're marketing yourself to people who are into BDSM. There are tons of options, so get creative.
Use multiple seller platforms: use several websites to market yourself in order to increase sales. You can list your services on several platforms that way you can have several subscriptions from different websites. You can also start on several platforms and see which one works best for you and then use one site exclusively.
Include videos: if you're comfortable with selling nudes, you should consider making sexy videos as well. This is a great way to supplement your nudes and make extra money. A lot of your fans would love to see you in action, so if you want to make more money and increase your market, start making videos. While a high-quality camera is a plus for making videos, it's not as imperative as with nudes. Videos are still acceptable at a slightly lower resolution.
Make lots of content: if you want to increase traffic on your platforms, make sure to post a lot of content. Pages with the most content get the most visitors. Potential subscribers want to know that you're actively participating. Along with your content, make sure you fill out your profiles completely. Put some time into creating your bio and making your pricing clear.
How much money can you make?
Income: let's talk about money. Income from selling nudes varies widely and depends on several factors. First, the amount of subscribers you have directly relates to how much money you'll get paid.. If your goal is to make $180 a day, you'll want to sell at least 270 subscriptions and charge each of them $20 per month. This goal will take a while to reach.
With these numbers in mind, you can start building your followers on all of your social media platforms. If you aim to have just 10% of your followers subscribe to your premium accounts, try to gain around 2500-3000 followers combined on all of your social media accounts.
This seems like a lot of followers but don't worry, if you give yourself some time, you'll be able to build that kind of following. If you are currently a college student, you're probably already familiar with building an online following.
Remember that all businesses take a while to build up. In the meantime, you'll still be making money while working towards your goal. Remember your goal is to keep your subscribers as well as gain new ones, so make sure to post regularly and your fans will love you.
What to charge: what you charge is entirely up to you. If you are just starting out, sell your subscriptions for between $10-$15 per month and as you become more established you can slowly increase your price. If you're using high-quality equipment and posting tons of amazing content you should sell subscriptions for more money. The better the service you provide is, in terms of customer engagement, the more money you can charge.
Tips & advice
Invest in yourself: If you want to sell nudes or adult photos and be successful, you have to think of it as a business. This means investing in quality cameras and lighting equipment if you can afford it. You should also consider hiring a professional photographer to take sexy nudes to use on your profiles. This will make you stand out so you can sell more photos and make more money.
Learn your angles: the quality of your photos matter. You have to learn your body and find the best angles and poses in order to sell your nudes. Figure out your best assets and play them up in your photos so you can make the most money off of your nudes. Don't shy away from close up photos of your body as well.
Play into kinks: there's a lot of money to be made in custom nudes and many companies let you keep a high percentage of earnings from custom photos. Let customers know you are open to playing out their fantasies and create photos and nudes just for them.
Work with a company: we've given you an awesome list of companies to work with because working with these websites will give you security, peace of mind and convenience when selling nudes. These websites will also protect your photos from hackers. Working with a company also helps ensure that you get paid in a timely manner.
Post on schedule: the number one way to keep guys from unsubscribing is by posting photos and nudes on a regular schedule. If your subscribers are always wondering when the next photo is coming, they're more likely to leave and subscribe to someone else. Make sure to prioritize this so you can get paid and make the most money possible.
Safety: prioritize your safety at all times. Never reveal your personal information and never meet your clients in real life. If a person makes you uncomfortable at any time you do not have to engage with them.
Now that you've read our guide for selling nudes, you can start researching the best websites to market yourself on. Start by creating a portfolio of nudes so that you can have a large number of photos to post and sell once you get your business started. Focus on growing your followers on all of your social media accounts. The best way to gain subscribers is to engage with your followers. Make sure to send them replies if they message your or comment on your photos. Just be patient and stay consistent and you'll be making money from your nudes before you know it.
References
https://www.postandcourier.com/sponsored/best-adult-cam-sites-with-captivating-live-cam-models-in-2023/article_490444be-227a-11ee-b7ee-bbc0ef5fae69.html
https://www.metrotimes.com/sponsored/11-best-adult-cam-sites-online-free-live-webcam-shows-27585205
While sending naked selfies on Snapchat is incredibly hot and sexy, it's always going to be a risky activity. If your phone is hacked, there's not much you can do. The good news is that there a few websites that let you send encrypted attachments. These platforms bring like-minded people together to express and explore their…