Arousr Adult Sexting Honest Review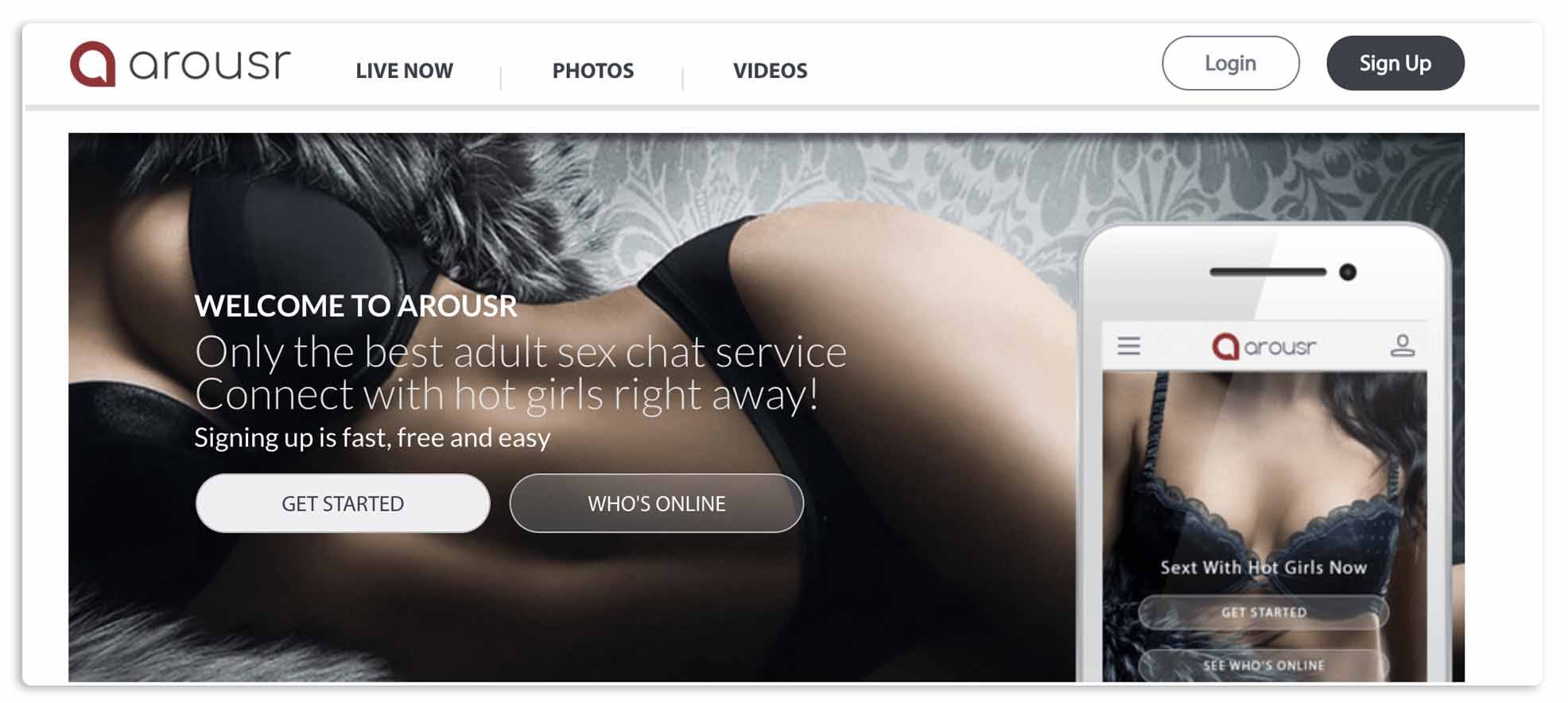 If you're tired of mindlessly scrolling through porn on the web and you're looking for something with a much more personal connection Arousr may be the app for you. Arousr allows members to see a huge database of sexy girls that are willing to sexy text with you. More than that you can also request phone sex or video calls. 
You probably know phone sex hotlines have been around for decades. We're talking before the days of the internet. Remember those late-night commercials of a woman lying seductively on a bed, "for a good time call." Of course, you do. What was so appealing about phone sex as it was a private intimate way to be turned on by someone in the privacy of your home. The pay per minute model offered a new way of charging for the service one that is pretty similar to what we have today. Not too much has changed when it comes to modern phone sex
Arousr claims to be empowering for sex workers as they have the opportunity to set their own hours and earn their own money. The site provides hosting but besides that chat hosts are their own bosses. The site offers chat options for both males, females or trans members so it is fully inclusive. When using Arousr you can feel better knowing that your money is going to your host.
There are a few things that have us on the fence about Arousr so we wanted to fully investigate this site to learn what sets them apart and if their site is legitimate. 
What Arousr is 
Arousr is a mobile experience that caters to three categories of interaction. Once you have signed up with Arousr you'll find you have the choice to choose to either text, chat or video chat. Arousr has slightly different experiences for iPhone and Android so read on to learn what those differences are.  
The premise of Arousr is pretty simple. There are people that want to enjoy sexy chatting and there are people that are willing to provide that service. Arousr puts the two parties together in a way where everyone feels comfortable. Sexy chating and video shouldn't be confined to a desktop experience. With this site, you can take all your interactions on the road. Mobility is a huge aspect of what sets Arousr apart from other chat scenarios.  
Overall experience 
If you have iPhone or Android you can use the mobile site of Arouser in the same way. You will sign up, get credits, see what girls are online and then select which one you'd like to pursue. From there you can enter your number and wait for her to contact you via your phone. Arousr encrypts your contact information and your models so you can both feel secure using the service. The more credits you purchase the longer your session will go on. Credits are the currency used by the site. 
Video chatting services are slightly different than most camming sites. You can use the app for the feature and when you do video chat you are not in a chatroom. By selecting to video with a model you are receiving a one on one video experience. 
iPhone Experience
Unfortunately, there is no Arousr app for iPhone. That doesn't mean you can't still benefit from the service it just happens on your phone vs in an app. To engage in erotic phone calls, chat or messaging you will simply use the iPhone messenger service. For call services, you simply enter your number on the website and wait for the call from the girl you've selected. Video chat is the one feature that does not translate on Arousr for iPhone. You can use the desktop version of the site to get this feature. 
Android Experience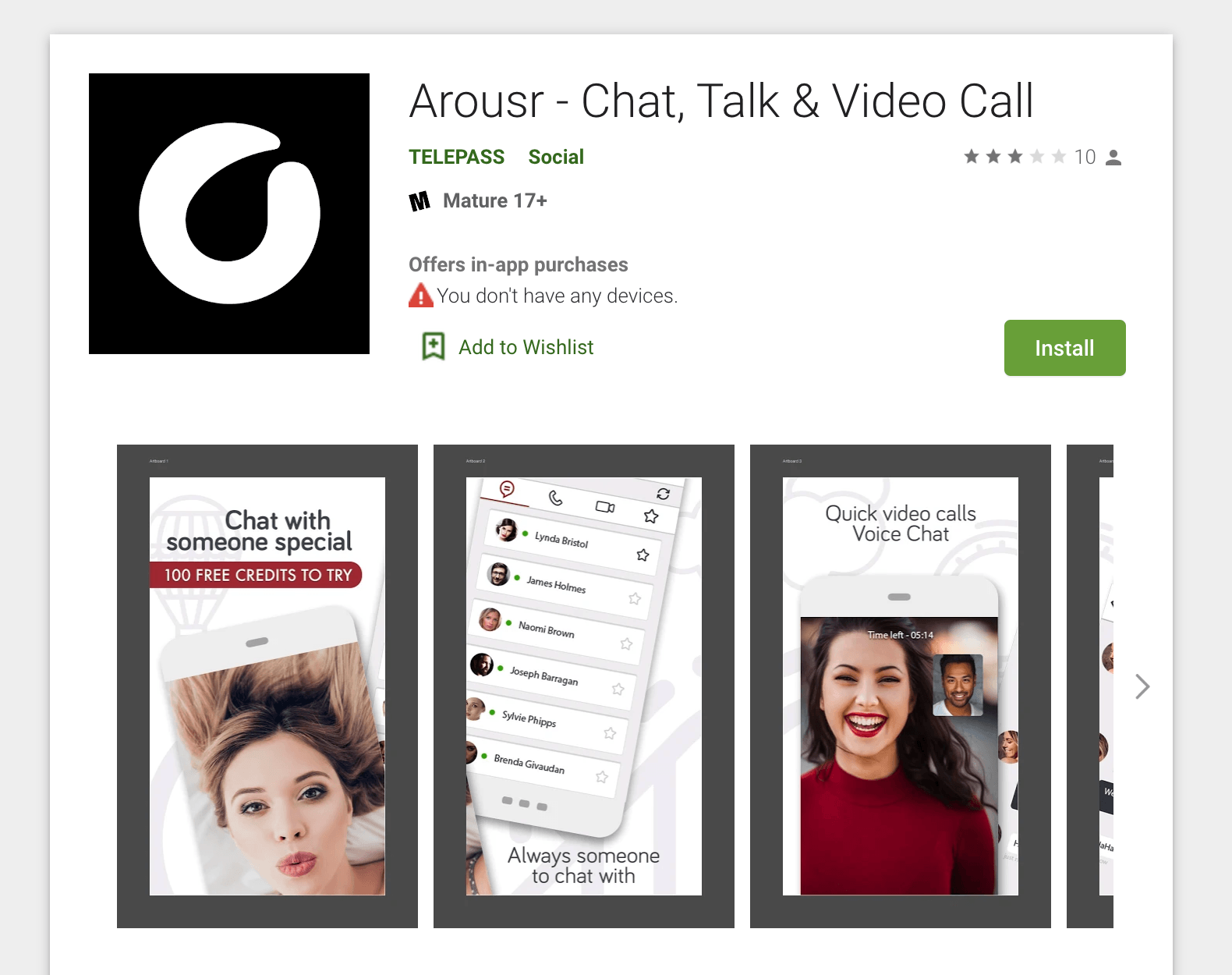 Arousr has an app for Android users to help them easily connect to girls wanting to chat. The app is great because you can see which girls are online and then chat, talk or video call with them right from within the app. From the app, you can manage your account, get calls from girls, and engage in one on one video calls. Imagine a private cam girl experience. 
The app is in the Google App store so that does give it some credibility. However, as a word of warning, the reviews are very mixed. There are some 5-star reviews but there are a few negative ones as well. As there are not too many reviews it's hard to tell if the app is legit or not. 
Access the Arousr app for Android here.
The good
Mobile phone optimized site and app mean you can easily access on the go. 

The site is simple and easy to navigate. 

App for Android makes all your interactions occur within one platform. 
The bad
There is no iPhone app. 

You have to purchase credits to chat with hosts. 

Mixed reviews in Google App Store. 
Cost 
You get 100 free credits when you sign up so you can test out features before putting your own money on the line. After that, you will have to purchase credits or tokens to proceed. 
$16.95 for 300 credits
$34.95 for 600 credits 
$54.95 for 1000 credits 
$100.00 for 2000 credits.
You can use a credit card or Google pay to purchase credits. These options again give the site credibility because Google pay does not work with scam sites. 
All and all we think Arousr is worth a shot. They offer something unique to the adult space. The mobility and access to models via just your phone makes it super simple. Let's face it, most of our communications happen via our phones anyways. As we move more and more away from desktop hopefull we will see more apps like this pop-up. We will update this review if Arousr puts an iPhone app on the market. Enjoy all this site and app have to offer!