Confide: Confidential Messenger for Sexting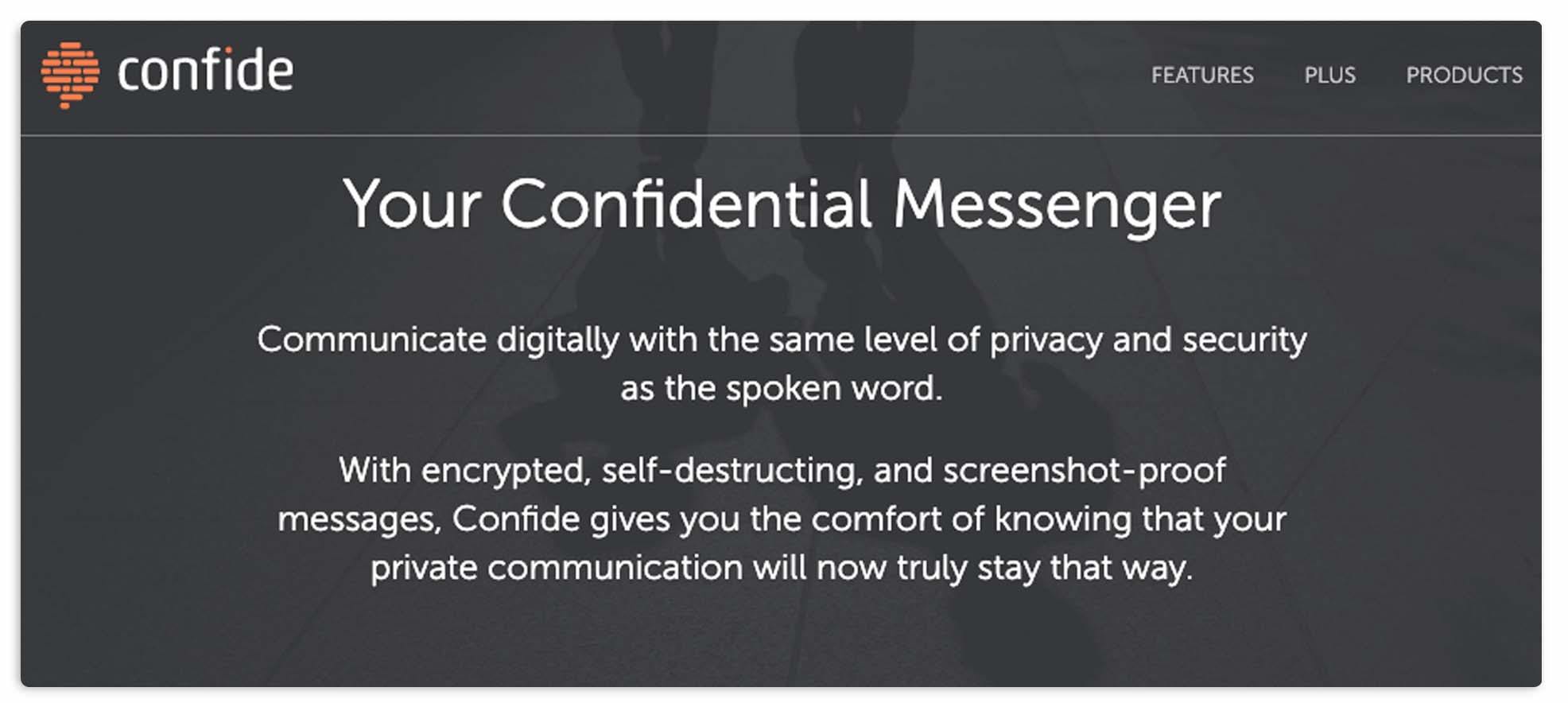 What is Confide
Confide is a confidential messaging app available to both Android and Apple devices. This app provides such a high level of security that it's even become popular with White House staffers looking to protect their text messages. With such a powerfully encrypted system, it's no wonder people have started using this app as a way to engage in worry-free sexting. 
Confide has an array of security features that allow users to send messages without fear of their scandalous pictures being leaked or screenshotted. They've even made self-destructing messages so that recipients can only read the message once before it disappears forever. Think of this app as a SnapChat on steroids. 
While this app does provide its users with an incredible amount of privacy, it should be noted that tests to infiltrate the app did find some shortcomings. Researchers found that with some probing, they were able to interfere and change text messages while they were in transit from the recipient to the receiver. Confide has since claimed to have fixed these issues, but it's always good to remain aware of any possible breaches of privacy.
If you are someone who loves sexting, then it's smart to be aware of the safety issues concerning this activity. Confide provides you with multiple levels of security so that you can relax and enjoy sexting without worry. 
Pros & Cons
Pros:
Prevents screenshots.

Messages are revealed line by line.

The sender's name is hidden.

Self-destructing messages.

Clean interface.
Cons:
Limited options for premium accounts.

Premium accounts cannot cancel their subscription once they start. 

Questionable security.

Weak password requirements. 
How it works
In order to use Confide, you'll have to make sure that your sexting partner is also using the app since the features only work when both people are using the app. If you already have Confide, you can sync your contact list and send an invite to anyone on the list. You can also search for Confide members using an email address, phone number or member ID. 
Confide uses a very unique format for text messages. When you receive a text, you'll be notified by the app. Once you open the message you'll see a series of orange lines. To view the text, slowly swipe your finger down, line by line to reveal the message. Once you move to the next line, the previous line will become hidden by a grey line. To view previous lines simply hold your finger on the line. Once you exit the message, it will disappear forever. Also be aware that if you attempt to screenshot the message, it will be removed automatically. 
This app is a high-security texting platform that will provide you with ultimate privacy when you're sexting. If sexting causes you to worry about your nudes being leaked, you'll be able to rest easy knowing your photos and messages are protected. 
Pricing
Confide is free to download and you will have access to a ton of great features. If you want to upgrade to a paid subscription, you'll have unlimited attachments, the ability to un-send messages, choose color themes and have priority customer support. Once you start a paid subscription you will not be able to cancel it. Subscriptions will automatically renew so if you want to cancel, make sure to cancel in the 24 hour period before the next renewal. 
Subscription packages:
3-months for $29.99
12-months for $59.99
How to Join
Visit the iOS app store or the Google Play store.

Download the Confide App. 

Sign up with your name and email address. 

Verify your email address. 

Add your contacts and start texting. 
Cool Features
No Screenshots: By far the most attractive feature of this app is the inability to take screenshots. Sure, it sucks if you want to screenshot a hot picture from your sexting buddy, but in the long run, this feature is worth it for your own security. The number one concern that people have when sexting, is having their nudes posted online or used against them. Confide has solved this issue, which is why it's one of the best apps out there for safe sexting. 
Hidden Messages: Another key feature of this app is the hidden message system. When you're reading an explicit text on this app, it will be revealed line by line, keeping the rest of the message hidden. A bonus feature is that when you're reading the message, the name of the sender will be kept hidden. Talk about maximum security. 
Color Themes: If you upgrade your account to Confide Plus, you'll be able to customize the color theme within the app. If bright orange is not your thing, you'll appreciate this special feature. 
Sent Message History: Once you're in the app, you can adjust your settings on your history of sent messages. To do this, go to your settings and click "sent message history." Here, you can choose to keep your sent message history for a limited amount of time or have them deleted immediately. You can also learn more about how your sent messages are protected in this area of the app. 
Self Destructing Messages: All of the messages that are received on Confide are deleted as soon as you close the message. This also means that you can only read the message once before it's destroyed, so make sure you read carefully!
Connect Confide to your iMessage app: Instead of using the Confide app every time you want texting protection, you can simply sync the app to your iMessage app for seamless, encrypted texting. 
Cancellation
For free accounts:
Open the Confide app.

Go to your settings. 

Go to your profile.

Scroll down to select, "delete the account."
For premium members:
Subscriptions must be canceled 24 hours before the automatic renewal period.
Overall Opinion
Confide will provide you several layers of protection so that you can sext without worrying about breaches of confidentiality. The measures that are in place to protect its users are a huge bonus for anyone concerned about their texts or nudes being released. One the other hand, the hidden message feature may feel like a bit of a hindrance when you're really getting down and dirty. You also won't be able to go back and read that hot text since they self-destruct. However, if your number one priority is confidentiality, safety, and security, then Confide is a great option for you.